The Story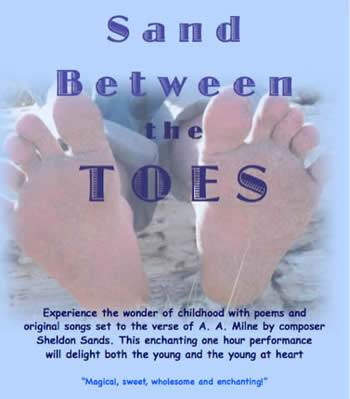 Twenty-three years ago, on a visit to my Mom's, I pulled a poem out of a high school scrapbook called "Wind on the Hill" and sat down at the piano, sensing a song in the making:
No one can tell me, nobody knows,
Where the wind comes from, where the wind goes.
It's flying from somewhere as fast as it can,
I couldn't keep up with it, not if I ran.
But if I stopped holding the string of my kite
It would blow with the wind for a day and a night.
And then when I found it, wherever it blew
I should know that the wind had been going there too.
So then I could tell them where the wind goes…
But where the wind comes from, nobody knows.
I felt as if the poem's composer, A.A. Milne (creator of Winnie the Pooh) had been right there in the room with me….  "Try a minor chord here, Sheldon….now let it build…that's right!" Though in fifteen minutes the composition was finished, little did I realize I was embarking on a wondrous adventure, one which would take over twenty years to come to fruition.
With encouragement from friends, in the following years I set a number of other Milne poems to song, all drawn from his collections "When We Were Very Young" and "Now We Are Six".  I chose poems that made me laugh, that reflect on a visceral memories from youth, or that simply spoke to me.  I would always be delighted and often surprised at the musical outcome.  Spring Morning, Sand-Between-the-Toes, King John's Christmas, The Alchemist, The Island, and Come Out With Me were all birthed in this period. Mr. Milne always seemed to be there by my side, enjoying as I was the collaboration…
Time passed.  World travels opened my ears to new yet ancient sounds, especially those of the Middle East, the Balkans, Andalusia, and the meeting points of the Jewish & Arab worlds.   I released "Across Many Oceans" and "Dead Sea Strolls", played Klezmer, Middle Eastern and Latin music, produced concerts, and found many new passions and friends along the way.  My collaboration with Mr. Milne was for the time lost but not forgotten…
In 2007 I met renowned singer Marta Burton, her Kiwi bass/accordion-playing husband Jeff, and a wonderful group of Denver based folk & bluegrass musicians called Stray Dog.  Marta, looking for an original Christmas song, asked if I had any ideas…. so I pulled my setting of A.A. Milne's "King John's Christmas" from the bottom of a rusty filing cabinet, and she loved it.  That December we performed "King John's Christmas" and "Spring Morning" for a Solstice concert in Denver, to a grand response.  Suddenly the project of performing and recording these songs came to life with weekly rehearsals at Marta and Jeff's Denver bungalow.  And with dear Mr. Milne at my side, I wrote more songs, enough to fill an album…
So here it is, dear friends!  And I am so very pleased.  Recorded with engineer Brian Hunter at Swallow Hill's Sawtell Recording Studio, I honestly love every track on this CD, and hope you will too!
I am offered the disc on a donation basis, with a suggested amount of $15.00 plus $1.00 for shipping. A portion of proceeds from each transaction will benefit Blue Sky Bridge http://www.blueskybridge.org, an outstanding community organization dedicated to fostering a community without child abuse.

Sand-Between-the-Toes represents a lighter side of Sheldon's musicality, combining his love of folk, blues and Americana traditions with the endearing verse of A.A. Milne. Sheldon is joined by renowned vocalist Marta Burton and the talented folk/ bluegrass band, Stray Dog, including Jeff Hooton (double bass/accordion/vocals), Eric Woods (mandolin/guitar), Anne Zinschlag (vocals) and Joe Rigley (dobro/guitar) and with guest Jesse Manno (bouzouki, laouto).
"The performance was amazing…one of the best I've seen. I don't think I have a favorite part. Every time I heard the next song, I thought, this is my favorite."

– Colleen Dawson, 9 yrs old
"This is a concert you don't want to miss! I was very moved by the poetry and songs


– Adult audience member
"Rilly good! I likte the songs!"

– 6 yr. old audience member