Piano Instruction in Lyons CO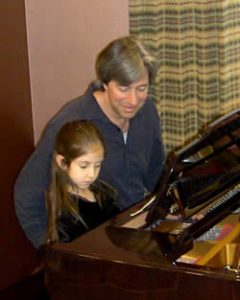 Since 1986 I have taught privately, both children and adults. In my practice I work to achieve a balance between solid rudimentary skills such as sight reading, technique, chord theory, and ear training; and more innovative approaches with an emphasis on creativity, including improvisation, composition and expression. I always seek to encourage in a student a relationship with their music that is inspired and expressively linked to their personal process.
Lessons are taught in a relaxed environment, with a musical bent oriented towards popular styles such as blues, rock, new age, classical and jazz. Should a student wish to learn to play the Beatles, Coldplay, Thelonious Monk, J.S. Bach or Scott Joplin, I am ready to go! We learn about chords and how they work together in any given key, we develop the ability to play by ear, we improvise, compose, we learn how to accompany singing, we find our way towards creative self-expression through music.
Online Piano Lessons from Anywhere in the World
With the advent of COVID 19, I have been giving lessons online, utilizing platforms such as Zoom, FaceTime, Skype and Google Hangouts. Admittedly, at first I was wary of the format! Yet with experience I've come to embrace it as an effective and practical means of music study.  If you are interested, contact me and we can set up a free online chat and mini-lesson to see if this is a fit for you-:)
In addition to piano, I play and teach basic guitar and hand percussion. I have a fundamental understanding of most orchestra instruments as well as the voice and feel prepared to compose for and rehearse these members of the orchestra. I have also taught seminars on ensemble playing, music theory and appreciation, as well as synthesizer/MIDI programming and applications.
I would be delighted to meet with you in person for a free consultation or speak by phone. Please contact me today!
Why Take Piano Lessons?
Piano lessons enhance school readiness, fine motor control, use of symbol systems, following directions, concentration, memory, perseverance, visual and aural discrimination, organizational skills, task completion, and goal setting.

Piano lessons encourage abstract thought and stimulate right-brain activities – synthesis, creativity, intuition, and innovation.

Piano lessons develop attention span and concentration level.

Piano lessons build self-esteem and develop initiative.
Testimonials
"Sheldon has been an outstanding piano teacher for our two boys for many years. He has a great rapport with them. He finds their musical strengths and interests. At all levels, from basic to advanced, he is able to bring out the best in his students. He is a talented musician himself, and it has been inspiring for our boys to see him perform as well. We are grateful to him for the gift of music that he has cultivated in our boys".  
-Erik and Cassie Mondrow
"Sheldon is a teacher who is in love with his art, apparent in his eagerness to show us the joys that music can bring.  He has a wide interest in many genres and he can adapt any piece, regardless of difficulty, to the level appropriate for our son. He always offers an opportunity to his students to participate in a recital, which is such a pleasure for us to hear our child and to listen to the diverse range of music from the other students.  Sheldon is accommodating to our schedule, very patient in his instruction and a wonderful man in all respects."
-Kim & Marty Magill
"I look back with a lot of gratitude to all of the years of inspiring tutelage under your guidance.   Thank you again!"
-Thomas Modern
"We sure do enjoy our daughter's piano playing, she REALLY loves it! …Thank you for being such a great teacher, for inspiring her so much!"
-Stephanie Stacey
"Sheldon Sands is a caring, patient, and skilled instructor. Over a several-year stretch he helped our elementary-school-age daughter make good and steady progress on the piano, all the while taking genuine interest in her as a whole person. You can't go wrong working with Sheldon!"
-Tim Weston & Marcia Yonemoto
Lecture / Presentations
Cultural Crossroads: an Introduction to the Music of the Middle East
In a lecture employing visual images, recordings and live musical demonstration,
Sheldon transmits to audiences young and old an essential understanding and
appreciation for the rich and vibrant music of the Middle East.
Klezmer!
With the wit and perspective of a true Klezmer musician, Sheldon talks,
plays and gestures that you might "git this music in your kishkes (guts)." Klezmer
is a Jewish musical tradition originating in the 'Shtetl' (villages) of Eastern Europe, later mixing elements of Arabic, Gypsy and Jazz music to its infectious sound.